KWHotel Expansion Modules
KWHotel Premium module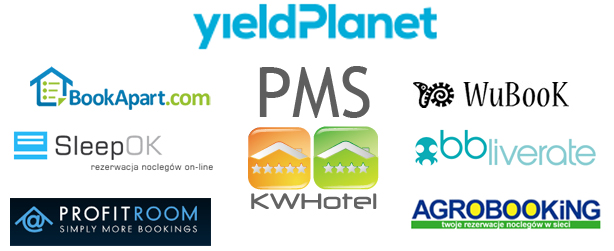 PREMIUM MODULE – Save your precious time by enabling full synchronization of KWHotel software with YieldPlanet portal. Quickly distribute all possible rate plans to every selected On-line booking site with just one click. Swift updates, possibility to generate marketing reports or see competition offers, and much more!
Supporting dozens of travel agencies and online booking systems, Premium Module is the perfect tool to enhance functioning of your accommodation facility!
We have also finished integration with WuBook, BBliverate, Profitroom and BookApart channel managers!
Premium Module Features

– Possibility to send all room rates and room availability to travel agencies and On-line booking sites
– Monitoring competition`s offers
– Possibility to enable automatic reservations module
– Swift, unlimited updates
– Option to instantly cancel availability of selected rate plans
– Generating marketing reports
– Possibility to send one collective allotment information to all travel agencies, allowing them to share it
*In order to use the Premium module, you need to sign contract with YieldPlanet, WuBook, BBliverate, Profitroom or BookApart first.
KWHotel complete partnership list (Last updated: May, 2013):
Agoda, AHP, All Travel Agencies 2, AlojaPro, ApartamentKrakow, Apartamenty24pl, Apartaments4u, AroundKrakow, Asatej, ASLA, Atrapalo.com, Avvio, BackPack Software, Barcelona Turisme, Bonjour Quebec.com, Bookassist, Booking.com, Booking.com XML, Booking.hu hotelmod (HCRS), BOOKINGAY, Bronevik, BSP, BudapestHotels, Budapesthotels-budapesthotelbooking.com, Budgetplaces.com, By Hours, Centraal Europa Reizen, CentralR, CentralReservations.com, CIHotels.com, CITIZENBOOKING, CityBreak, CityzenBooking (KOEDIA), Click4Hotel, ClickAndBook, Despegar, Diodeplus, Easy To Book, EhBox, ehotel, ehotel (www.ehotel.de), EL CORTE INGLES, ES Viagens, eTravel (Netmedia PL), eTravel (Netmedia RO), Europlayas, Evolution GHO, Expedia, Federal, Globekey, GoGlobal, gomio.com, Gremi d`hotels, HiHostels, Hostelbookers, Hostels247, Hostelsclub XML, HostelsClub.com, HostelTimes, HostelWorld, Hotel Reservation, Hotel.de, Hotel24, Hotel7, HotelBeds.com, HotelDo, Hotel-inn, Hotels4U, Hotelschart.com, Hotel Start (BudapestHotelStart.com), Hoteltelnet, Hotelzon, HotelZone, HOTUSA, HRS, iCastelli, ICR (RRW), iHotelier, inntopia.com, Instant World Booking, Inthotels.com, Jackson Hole, Jacob, Jetsetter, Jumbo Tours, Just One Hotel (Roomgenie), KEYTEL, Kuoni, Lastminute (Global Hotels), Lastminute (MagentA), Laterooms, Letmego, LifestyleHotels, Menorca Hotels Guide, Metglobal, Miki Travel, Mirai, Mr.&Mrs. Smith, My-Booking,Eu, Netbookerng, NetHotels, Nextel, Noce.pl, NT INCOMING, NTIncomingXML, Oktogo, Online Booking Engine, Orbitz, Orbitz XML, Ostrovok, Poltrip, Prestigia, Price Travel, Profitroom, PRSnet, PTQV, PTQV (XML), PTQV (XML2), Rates To Go, Rezserve, SERHS, simplebooking, ski.com (Aspen Ski tours), SmartBox, Splendia, StayPoland, StudioGenesis, SunHotels, Superbreak, SynXis – Sceptre, Szallas, Szallodak, TABLET HOTELS, ToBook, Tourico Holidays, Tourist Online, Tourneo, TRADYSO, Transhotel, Travco, TRAVEL INTELLIGENCE, Travelmed.gr, TravelMKT (Infohostal), Tropolino, Turo.ro, URBIS, Utazok, Venere, Viajes Iberia, Weekendcompany, Weekendesk, WELCOMEBEDS.COM, WHL/Albatravel, WihpHotel, WIMDU.com, WitBooking, Wotif, YourVoyager, Zabook.com, Zanadu, Zasypiam.pl
Premium module price list for 2014
| Max. Rooms / Beds* | 1 year subscription cost |
| --- | --- |
| 10 | 50 € |
| 16 | 70 € |
| 28 | 100 € |
| 60 | 150 € |
| 100 | 200 € |
| 100+ | 250 € |
SPECIAL DISCOUNTS!
15% for placing the link to our website on your Internet page
15% for Hostels
10% for recommending our program to a new client who will buy the licence to any payable version of the program
10% for each prolongation of the licence (Up to 3 years)

The 12-month licence includes:
– immediate access to all updates
– quick technical support via E-mail or Skype
– professional phone or remote help during the program installation
* Hostels have to pay for the number of beds they are going to use with KWHotel
Online Booking System
The online booking system requires KWHotel Pro version with the MySQL database located in the Internet.
KWHotel Team would like to proudly present you the brand new online booking system. It provides you with a swift and professional online booking engine which will enhance the appearance and functionality of your website.
Online booking system key features:
professional design, resembling the Booking.com website
possibility to include room descriptions
possibility to include room equipment and images
payment gateways support: PayPal, Authorise.net, PayU, DotPay, PolCard
full synchronization with KWHotel Pro PMS
complex management panel for further system customization and hotel allotment display
possibility to input hotel regulations
possibility to issue an invoice for the company
Online Booking System price list
| KWHotel Pro version | Price per year (EUR) |
| --- | --- |
| Up to 10 rooms | 50 |
| Up to 16 rooms | 70 |
| Up to 28 rooms | 100 |
| Up to 60 rooms | 150 |
| Up to 100 rooms | 200 |
| Above 100 rooms | 250 |
KWHotel Mobile App
KWHotel Free Mobile

KWHotel Standard Mobile

KWHotel Pro Mobile

Free mobile booking calendar!
Supports up to two rooms
No time restrictions

Constant access to your bookings!
Supports unlimited number of rooms
Rooms and customers management
Customer calling and mailing features

KWHotel Pro in your pocket!
Constant access to your bookings!
Full synchronisation with KWHotel Pro!
Supports unlimited number of rooms
Rooms and customers management
Customer calling and mailing features
KWHotel Mobile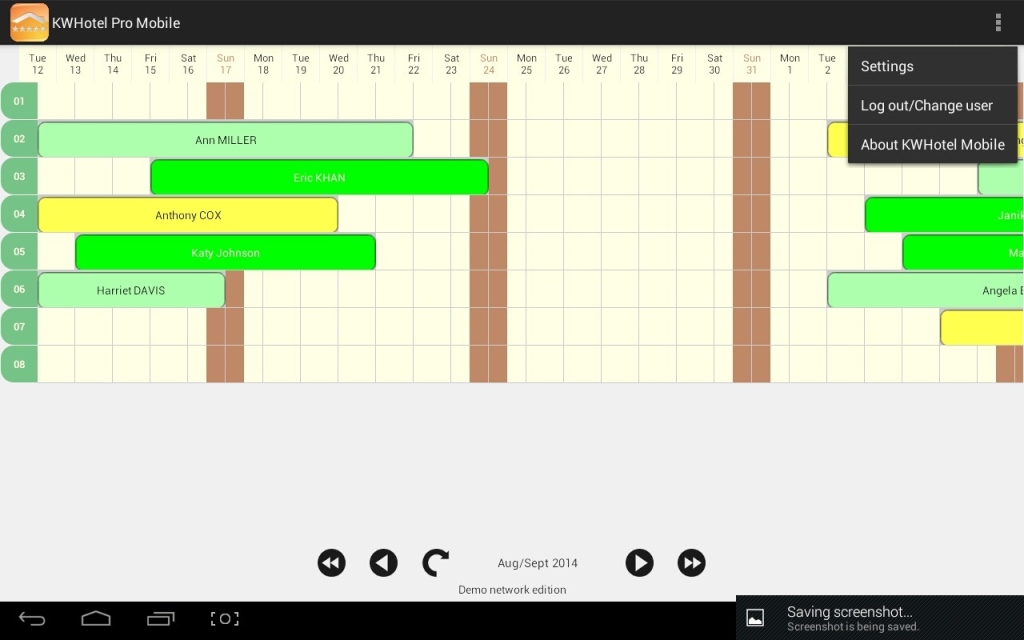 Going on a trip? Carry your hotel with you thanks to KWHotel Mobile editions!
Unlimited access to the booking calendar throughout the entire world!
KWHotel Mobile is a modern application that facilitates your hotel management. Now you can easily create, modify, delete reservations and assign customers to them.
The testing panel of KWHotel Pro Mobile will last until the 20th of August 2014.
Please note that the KWHotel Standard Mobile version is not compatible with the PC version of KWHotel Standard. Data cannot be transferred between these versions.
KWHotel Mobile manages:
• Rooms – adding/modifying/deleting rooms, maintaining room name and number of single/double rooms
• Guests – assigning guests to reservations, maintaining guest's name and contact data
• Bookings – you can create/modify/delete reservations with just one click. Booking status manager functionality allows you to define reservation statuses and color coding to make your reservation calendar even more legible.
• Prices – you can define a price for adults but also set up various plans for 3 additional age groups (eg. kids) defined by you
| Max.Rooms / Beds* | Annual subscription cost (KWHotel Pro Mobile) |
| --- | --- |
| 10 | 25 € |
| 16 | 35 € |
| 28 | 50 € |
| 60 | 80 € |
| 100 | 100 € |
| 100+ | 120 € |
KWHotel Pro Mobile requirements:
– KWHotel Pro hotel management system with a database located in the Internet
– Android OS version 4.2 or higher
– Internet connection
MySQL Database Hosting

Since KWHotel Pro operates on MySQL and MS SQL databases, each KWHotel Pro user has to decide, where to store such database. It can be either a local computer, LAN or Internet hosting server. If you are planning to check your reservations from outside the accommodation facility and you do not want to have your hotel computer switched on all the time and deal with router reconfiguration, then you should consider moving your database to an online hosting server.
Our company offers fast and reliable server for 25 Eur per year. What are the advantages of storing your database in the Internet?
– Unlimited access to your database from any place in the world with Internet connection
– Increased safety of your database due to automatic backup feature present on our servers
– Excellent performance and stability achieved at solid Internet connections
At least 2MB/s Internet connection is recommended for using the online database.
if you have already placed your database on local computer or in LAN and you would like to move it to our Internet server, feel free to Contact Us. We will transfer the data for you!
| Service | Price |
| --- | --- |
| MySQL database server hosting | 25 € |