Sender ID
You can specify what word or phrase will be displayed as sender on receiver's phone.
Unicode characters
You can use Unicode UTF-8 to send SMS texts. Thanks to this you can use special characters that appear in your recipient's language.
Personalisation
Make your text communication even more personal by using custom information fields. If your contact list contains detailed information like first name, simply put [%first_name%] and our system will automatically replace it.
Templates
Keep your frequently send texts as templates. You can use then whenever you'll need to without any hassle.
We proudly present our easy-to-use SMS service
See for yourself how quick and easy SMS campaign can be
Find out why note hundreds of thousands SMS texts daily send via our platform:
First of all – we did our best to give you cutting-edge feature pack combined in one solution. You can easily upload and manage your contact list, that is strongly protected by encryption protocols. You have various tools to personalize, schedule, track and report nearly everything that concerns your text campaigns.
We're continuously working on adding new features and improving available ones, because your satisfaction is essential in our business.
If you have any extra questions feel free to contact us.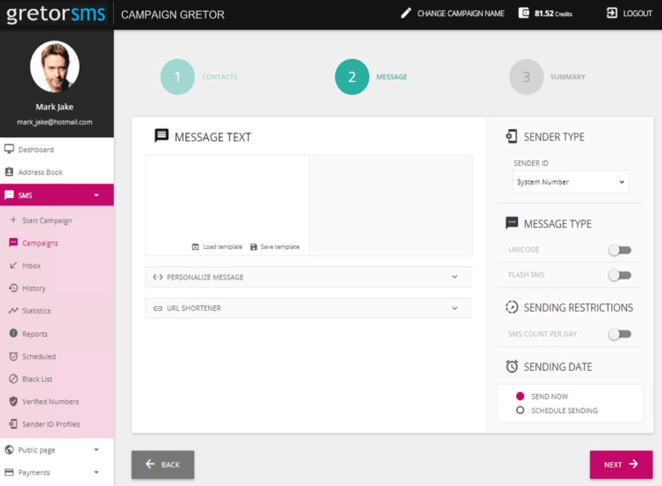 SMS Marketing Video Gallery