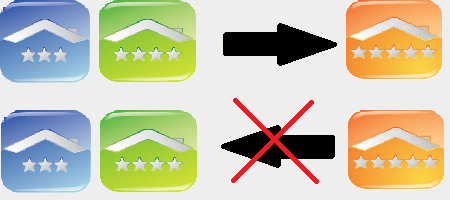 What makes KWHotel Pro the ultimate version of our software, is the network component. It uses the MySQL and MS SQL databases to ensure swift and stable connection between multiple computers simultaneously.
The fact, that KWHotel Pro takes a different approach to database structure in comparison to KWHotel Free or Standard editions, implies few questions, that have to be taken into account before installing KWHotel Pro.
First of all, distinction between KWHotel Free/Standard and Pro database structure makes it possible only to import data from Free/Standard editions into KWHotel Pro. It cannot be done the other way round.

The second question, that has to be answered, is whether to use the MySQL or MS SQL server. Although both of them offer the same amount of complexity and performance, we recommend the MySQL server to our customers, since it is easier to configure and manage. All the manuals and information regarding KWHotel Pro are based on the MySQL server configuration option.
After that, User has to think where to store his database. There are four possible options, each of them having its stronger and weaker spots:
1. Install your database on local computer.
In this case, KWHotel Pro will work very fast but in order to connect it from outside the hotel you will have to reconfigure the router. It will still be possible to connect this database through Local Area Network (LAN). The additional advantage of having the local database is that it will still be accessable when your Internet connection goes down.
2. Link your database in Local Area Network
In such case, one of computers located in LAN will perform the role of database host. That`s where MySQL server installation has to be performed. Please bear in mind that access to your database will only be granted when the server computer is turned on. Additional advantage of LAN option is that it gives you excellent performance.
3. Set up your database on KWHotel online hosting server.
For those, who wish to connect their KWHotel Pro from any place worldwide, KWHotel Team has prepared a fast online hosting service for the price of 25 Eur/year. Moreover, such solution greatly increases safety of your database thanks to automatic backup feature. Twice a day, our server creates a backup copy of your database. In case of unexpected issues such as computer crash, your database can be restored the very first moment you install KWHotel Pro. You just need to insert the access data that you have received from our company after purchasing the server. However, you have to bear in mind that performance of this solution is greatly dependent on your Internet connection. At least 2 MB/s Internet connection is required to ensure swift software performance and losing your Internet connection equals losing access to your KWHotel Pro database (For that specific moment).
4. Setting up your database on another hosting server.
If your company happens to have its own remote server or you wish to buy such service from someone else, you can always do so. The performance of this solution also depends on your Internet connection. At least 2MB/s is recommended for good performance. If your Internet connection gets down, you will not be able to reach your KWHotel Pro for that time.
KWHotel Software Changelog
Changes included in 0.44.41 update:
(March 2015)
– Possibility to automatically check customer`s VAT EU number
– Possibility to display rooms from all hotels on the same calendar (In case of using multiple licenses)
– Enhanced Layout settings (Tools –> Configuration –> Layout)
– Enhanced Users module; it is now possible to assign different privileges to each user group (Tools –> Configuration –> Users)
– New cash reports
– Possibility to place additional comments on the invoice (Tools –> Configuration –> Invoices –> Page 3)
– Possibility to change prefixes in the accounting documents
– Possibility to disable issuing receipts
– Possibility to print invoice`s duplicate
– Possibility to hand keys to the customer (Key icon in the reservation screen)
– Possibility to book reservation for multiple terms (I.e. every three days).
– Possibility to provide additional descriptions for rooms ("Advanced" tab)
– Highly expanded History module (Available in the reservation screen)
– Numerous bugfixes and stability enhancements

Changes included in 0.44.05 update:
(October 2014)
– Improved performance
– New reports
– Customizable booking and customer statuses
– Possibility to add custom nationalities
– Possibility to mark holidays on the calendar
– Possibility to add discounts and additional tax to the reservations
– Possibility to assign access to certain rooms for each user
– Statistical report fixes
Changes included in 0.43.85 update:
(26.03.2014)
– Fully reworked group booking engine to provide more functionality and stability
– Added possibility to move bookings with mouse cursor to another room or term without entering reservation screen
– Added possibility to select multiple reservation terms on calendar while holding CTRL button (Then press ENTER to create group booking)
– Possibility to extend or shorten reservation terms using your mouse cursor without opening reservation screen (Requires holding SHIFT button during operation)
– Added mini-calendar that shows number of free rooms and beds for each day. Feature designed for hostels to facilitate their work when booking a big group
– Added revenue report
– Added additional privilege level – accounting
– Fixed problems with hotel packages
– KWHotel Free –> added possibility to change language in the program
– Improved synchronisation with YieldPlanet, BBLiveRate and WuBook channel managers
– Added synchronisation with Bistro, Gastro and Symplex POS systems
– Increased maximum capacity of hotels to be supported in one KWHotel program
– Added Rooms tab in Statistics module which calculates payments for desired rooms
– Added possibility to prevent junior receptionist from issuing and editing invoices
– Added option to delete selected and finished reservations after desired number of days
– Added possibility to switch between old and new group booking system
– Added "Date of provision" on accounting documents with possibility to change its date and description based on current date, booking start date or booking end date
– Added possibility to force loading Report Viewer during program startup to prevent stability issues
– Possibility to use up to 4 decimal places on invoices
– Minor translation enhancements
– Numerous stability and bug fixes
 Changes included in 0.43.27 update:
(16.10.2013)
– Added possibility to create custom fields in reservation window
– Added possibility to create custom fields in customer window
– Added possibility to include guest photo in customer window
– Added "Find room" option in the calendar screen
– Added possibility to create custom reports, that also include custom fields created in reservations window
– Added option to transfer advance amount as second payment in accounting documents. Option designed for gathering commissions and provisions by travel agencies
– New daily cleaning report, designed for better legibility (Old one is still present in the program as "Daily cleaning report 2")
– Added HTML Booking Confirmation 3 and 4 (For preview purposes)
– Added possibility to attach any type of file to reservation
– New tab in Statistics module: Rooms. It shows cash inflow for particular rooms in the given time range
– TeamViewer Support is now available from Help
– Postcode can now be up to 15 characters long
– Added option to disable Booking Confirmation 1&2 or 3&4 in the reservation window
– Added possibility to download rates from YieldPlanet to booking confirmations (Advised for Premium module users only)
– Added possibility to include custom fields in booking confirmations. These have to be enabled by KWHotel Team for your request
– Fixed statistical office report bug
– English translation greatly improved
– Increased stability
– Minor fixes and enhancements
Changes included in 0.41 update:
(04.02.2013)
– Advanced room price list
– Possibility to set disproportionate price in accordance to number of people accommodated in the room
– Auto-booking from On-line booking sites; includes rate plan, On-line reservation number and On-line booking site`s name (Premium Module)
– English translation greatly improved
– Reports module renamed to Statistics
Changes included in 0.40 update:
(11.01.2013)
– Year 2013 invoices support
– Detailed shift report
– Sending bookings confirmation to selected E-mail
– On-line backup
– After deleting meals description, ammount on accounting documents will also include cost of meals
Changes included in 0.39 update:
(–.11.2012)
– Option to support multiple objects at once
– Premium Module: downloading prices from selected rate plans
– Automatic subtracting advances on fiscal receipts
– Sorting documents fixed
– Meals statistics fixed
– Customer database search speed improved
Changes included in 0.38 update:
(03.09.2012)
– Calendar layout improved
– Hotel locks support
– Expanded "Deleted reservations" report
– Cash reports fixed and expanded
– Additional logbook reports and functions
Changes included in 0.37 update:
(01.06.2012)
– Sending On-line reservations to travel agencies system modernized
– Rate plans and rate plans management features for Premium Module and YieldPlanet
Changes included in 0.36 update:
(22.02.2012)
– Invoices adjusting notes
– Second type of bookings confirmation
– Date change speed improved
– Free rooms in group reservations refresh speed improved
Changes included in 0.35 update:
(15.01.2012)
– Cash Receipt printings
– On-line reservations number and search engine next to it
– User, who added a customer
– Option to ask whether customer agrees for mailing
Changes included in 0.34 update:
(10.12.2011)
– Individual customer and company division
– Room cleanliness statuses