Why Gretor SMS?
Check what do we have to offer
Gretor SMS can deliver text messages to over 800 operators in over 200 countries and that number is increasing all the time.We use only reliable network providers.

By sending bulk SMS you can reach any sized group of contacts within seconds, easily communicating with customers at the click of a button. Send over 8000 messages per second so no bulk SMS campaign is too large for us. Try us NOW.

Smart SMS is a new way of interacting with your customers. It combines the speed and reliability of the standard SMS message with the beautiful design and content of your Gretor SMS Business page.

With Gretor SMS friendly web interface you can easily send bulk sms mailings and premium sms messages. It has ready-made applications to be used by the sender without the need for any additional supporting software.

Using our application protocol interface (API) developers can integrate all fastsms features into any project. We'll provide you our API documentation even before you sign up for your free account.

SMS is lightning fast, literally putting your message into your subscribers' pockets or purses seconds after you send. The average time for all mobile carriers and SMS services is less than 5 seconds from send to received.

Using our Email to SMS solution you can send text messages just like you would any other email. It's quick and easy Simply send an email to recipient_number@email2sms.gretor.net, with properly formatted topic and your message will be converted into SMS.

Recommendation system

Log in on your account, get your recommendation code and start to recommend Gretor SMS! For each registered and active company we'll give you special bonus.
Multiple Sub-Accounts

The Powerful user management functionality allows you to create new users with different levels of access. By default the first user is set up as an administrative user.

Reports with statistics

The detailed information and statistics allows you to have better control and management of all your Bulk SMS campaigns.You can view the data online, or download in a CSV file.

Using our phonebook you can set up a database of names and mobile phone numbers to access and edit online. Simply upload list in preferred file format (CSV, XLS, TXT) or paste your numbers. You can include first and last name, and other fields into contact list.

Address the message recipients by name. Message personalisation allows to easily include the person name and other details when sending to multiple numbers.

You can schedule to send sms at any time in the future as you please. Simply define it using our Web Interface or API and we'll do the rest.

Using Gretor SMS you'll be able to send up to 918 characters message long. In fact which arrive as 1 message on peoples' phones.

SMS message templates are quick and easy With possibility to save them and re-send whenever you need.Just choose template you want to use and hit.

Webmonitor SMS

Get Notified When Your Website Goes Down! Our Webmonitor SMS solution checks continuously your website and will text you if your site won't respond.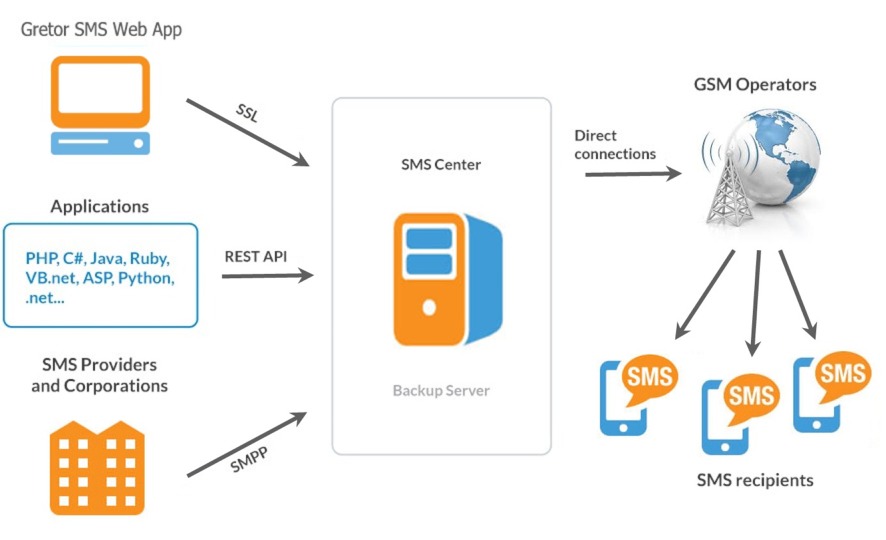 of experience in SMS marketing
of the messages are delivered under 60 s
mobile providers worldwide